'Baywatch' Review: A Nice Entertaining Movie, But Didn't Perform Well In Box Office
You know it's so surprising and sad how Baywatch didn't actually perform well in box office when it was released earlier this year, which really pissed Dwayne Johnson, as the movie wasn't bad at all. I just watched the movie thoroughly, and it's such a nice beach movie concept with some spice of comedy and romance. Although, the movie is suitable for adults only (20+), as there are a lot of erotic visuals in the movie. At first, when I started watching the movie, I was wondering what's going on and almost gave up but I waited, and eventually understood the whole movie plot.
To give you a background of the movie, Baywatch movie centers on a dangerous crime that hits the beach, and the legendary Mitch Buchannon (Dwayne Johnson) leads his elite squad of lifeguards on a mission to prove that you do not have to be police to save the bay. Joined by a trio of hotshot recruits, including former Olympian Matt Brody, they ditch the surf and went under cover to take down a ruthless businesswoman (Priyanka) whose devious plans threaten the future of the bay, after killing several on the bay.
The movie is great movie; Dwayne Johnson nailed the superhero role in saving lives and Priyanka, also played the Villain role perfectly, she would make an awesome major Villain in future movies. No wonder she's interested in playing Catwoman. The whole actions in the movie was really entertaining and the death of Priyanka was pretty interesting and worse than how she had killed other people. She was actually shattered with a huge firework. To be honest, almost all of Dwayne Johnson's movie has always been a nice entertaining movie, without any dull moment (personally, I enjoy his fight, just like Vin Diesel).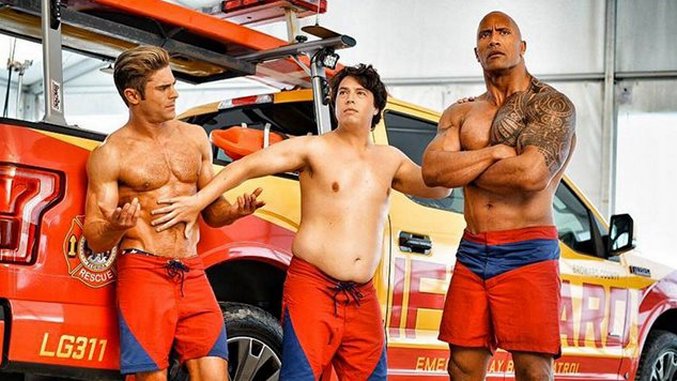 As usual, I always spot something that doesn't look right in movies, which is why I'm a blogger. In the Baywatch movie, Matt Brody should at least shave his armpit clean before coming on set for the movie, it almost nauseate me while watching the movie. Secondly, the scene where the boat was on fire and Dwayne Johnson went for the rescue was filled with beautiful lies, which include:
1, Johnson went into the fire without shirt and didn't sustain any injury, after all the movie didn't describe him as a superhero with special abilities like some sort of fireproof skin.
2, In as much as the boat was burning, the boat wasn't hot at all, as Johnson was just walking on the boat like there wasn't fire at all and the girls he saved didn't even sustain any injury or have smoke marks on their body. These are not real.
Aside these minor flaws, the movie is a great movie. If you've watched Baywatch, what do you think of the movie?
Score: 8/10