The Gifted Season 1, Episode 9 Preview: "outfoX": The Underground Mutant To Make Risky Move
FOX has just released brand new promotional images from the 9th episode of The Gifted's season, showing a preview of the Underground Mutant making a precarious plan.  See image preview below.
MUTANT LIVES HANG IN THE BALANCE ON AN ALL-NEW "THE GIFTED" MONDAY, DECEMBER 4, ON FOX
The team develops a risky plan to help mutants who are in Sentinel Services' custody. Reed reveals details to Andy and Lauren about the Struckers' family history that could prove to be a game-changer in the all-new "outfoX" episode of THE GIFTED airing Monday, Dec. 4 (9:00-10:00 PM ET/PT) on FOX.

THE GIFTED: Guest star Elena Satine in the "outfoX" episode of THE GIFTED airing Monday, Dec. 4 (9:00-10:00 PM ET/PT) on FOX. ©2017 Fox Broadcasting Co. Cr: Eliza Morse/FOX

THE GIFTED: Jamie Chung in the "outfoX" episode of THE GIFTED airing Monday, Dec. 4 (9:00-10:00 PM ET/PT) on FOX. ©2017 Fox Broadcasting Co. Cr: Eliza Morse/FOX

THE GIFTED: L-R: Guest star Elena Satine and Blair Redford in the "outfoX" episode of THE GIFTED airing Monday, Dec. 4 (9:00-10:00 PM ET/PT) on FOX. ©2017 Fox Broadcasting Co. Cr: Eliza Morse/FOX

THE GIFTED: L-R: Natalie Alyn Lind and Percy Hynes White in the "outfoX" episode of THE GIFTED airing Monday, Dec. 4 (9:00-10:00 PM ET/PT) on FOX. ©2017 Fox Broadcasting Co. Cr: Eliza Morse/FOX

THE GIFTED: Percy Hynes White in the "outfoX" episode of THE GIFTED airing Monday, Dec. 4 (9:00-10:00 PM ET/PT) on FOX. ©2017 Fox Broadcasting Co. Cr: Eliza Morse/FOX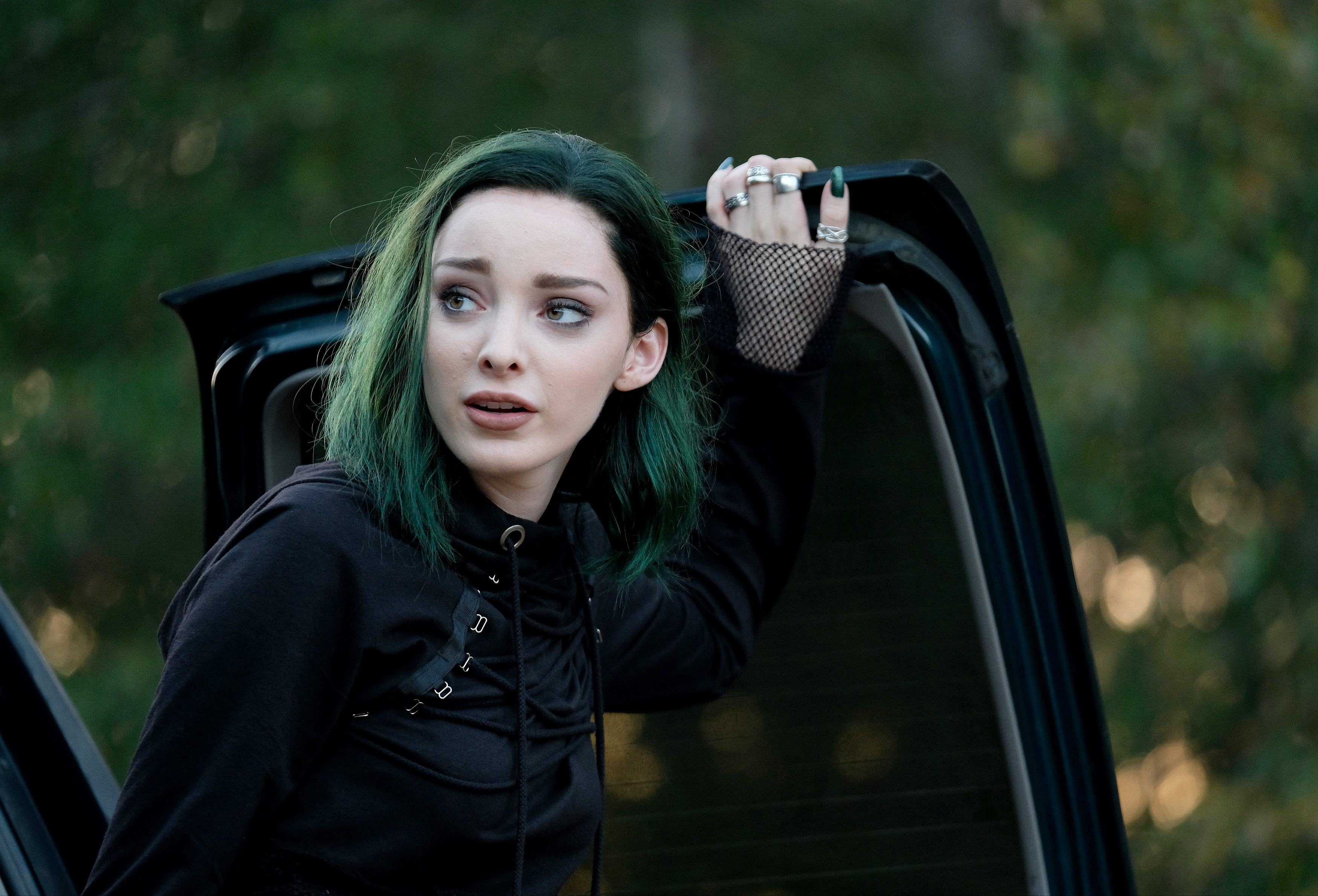 THE GIFTED: Emma Dumont in the "outfoX" episode of THE GIFTED airing Monday, Dec. 4 (9:00-10:00 PM ET/PT) on FOX. ©2017 Fox Broadcasting Co. Cr: Eliza Morse/FOX

THE GIFTED: L-R: Sean Teale and Blair Redford in the "outfoX" episode of THE GIFTED airing Monday, Dec. 4 (9:00-10:00 PM ET/PT) on FOX. ©2017 Fox Broadcasting Co. Cr: Eliza Morse/FOX

THE GIFTED: Blair Redford in the "outfoX" episode of THE GIFTED airing Monday, Dec. 4 (9:00-10:00 PM ET/PT) on FOX. ©2017 Fox Broadcasting Co. Cr: Eliza Morse/FOX

THE GIFTED: L-R: Guest star Elena Satine, Percy Hynes White, Jamie Chung and Natalie Alyn Lind in the "outfoX" episode of THE GIFTED airing Monday, Dec. 4 (9:00-10:00 PM ET/PT) on FOX. ©2017 Fox Broadcasting Co. Cr: Eliza Morse/FOX
THE GIFTED: L-R: Natalie Alyn Lind, Percy Hynes White, guest star Elena Satine and Jamie Chung in the "outfoX" episode of THE GIFTED airing Monday, Dec. 4 (9:00-10:00 PM ET/PT) on FOX. ©2017 Fox Broadcasting Co. Cr: Eliza Morse/FOX
Source: FOX